In the latter part of Queen Victoria's reign, a certain Frenchman, living and working in London, made a contribution to toy steam, that has caused both controversy and amusement ever since. He was one Desire Thomas Piot and on his patent application of 1891 he describes himself as an electrician, by 1897 he calls himself an engineer.

So, I hear you cry, what is this famous invention? It was a "steam generator" for propelling toy boats. The noise these boats, and their descendants produced led to them being termed "pop pop boats". Although to cause confusion the word boat has also been prefixed with "putt putt", "puff paff", "toc toc" and probably several other things!

Those of you familiar with "pop pop boats", either from your childhood, or from those being sold today, will probably be surprised that Piot's design was more sophisticated than many that have followed.

I have seen pictures of a boat built to Piot's design, which measured 9.75" (25cm) and was retailed by J Robinson & Sons, Opticians and Photographers of 172 Regent Street.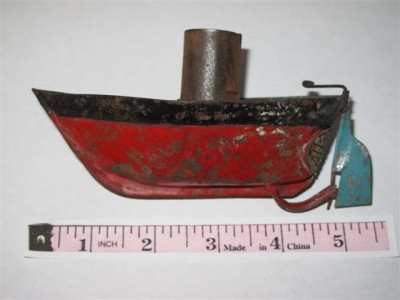 In my collection I have a smaller version (see above picture), also built to the same design. It is 5.5" (14cm) long and was retailed by H J Redding & Co makers of scientific apparatus and novelties. They were based at 3 Argyll Street, London, W., as the brass plate on the stern of the boat proudly proclaims (see photograph below). It is the pride and joy of my collection, which exceeds 200 boats.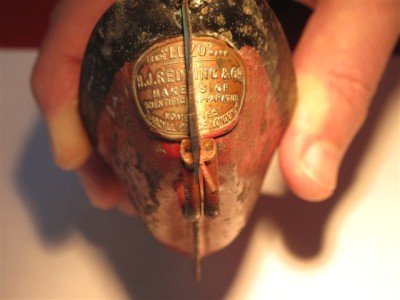 The design uses two pipes, which do not form a coil or emanate from a diaphragm (the latter being patented by American Charles J McHugh in 1916).
The design also incorporates a fuel tank, from which a wick rises and is positioned under the proximal end of the two pipes. I am not sure what fuel would have been used. Other features are a detachable funnel (see below) secured with two tiny pins, this gives access to the wick.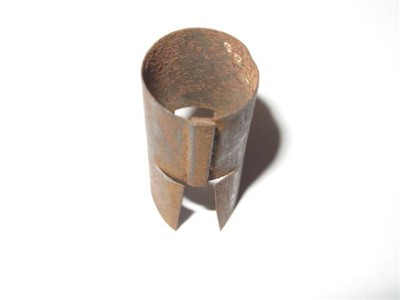 The fuel tank forms the foredeck and has a filler hole. The whole vessel is complimented by a delicate but functional rudder, which is still intact, including the tiller. A second brass plate above the fuel tank bears the words, "D. Piot PATENT" (see photo below).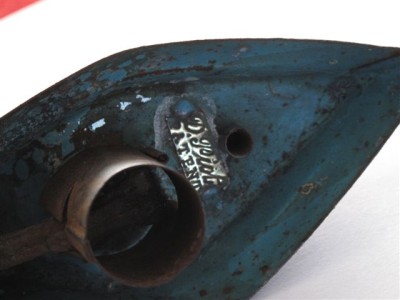 I'm sure this electrician, engineer, inventor did not visualize the boats that would follow his creation. All shapes and sizes, single pipes. double pipes, diaphragms, horizontal coils, vertical coils all popping, putting and toc tocing away to the delight of generations of small and rather large "children".
I am keen to keep this marvellous tradition alive, and so I try and keep a variety of boats, both new and vintage in stock in the poppopshop. Try one out, you'll be amazed!